THE FLORIDA KEYS dangle from the end of the sunshine state like a slender curved chain whose terminus is the island city of Key West. Like all the tiny dots above it forming the Keys archipelago, Key West is a tropical paradise, and it shares their laidback vibe. But it's also buzzing with a lively energy and irreverent attitude that often pushes its party quotient to raucous levels. For many visitors, its booze-soaked bars and loud clubs are as much a draw as its turquoise waters and balmy sea breezes. They pack busy Duval Street indulging in the Conch Republic's revelry.
But Key West is no one-trick pony. It has a quieter side, too and even a few still-buried treasures, despite being one of the most popular tourist destinations in the country. It's packed with rich history, ghosts of multiple literary luminaries and plenty of opportunities to explore its flourishing biological and botanical bounty. These aspects of the island's personality unlock a low-key escape; discover them with this list of places to see, things to do and eats to enjoy.
A Quick Rum Run: Start with a walk down Duval (especially if you've never been to Key West before). There are a few sites worth seeing on this main thoroughfare and its immediate offshoots, and when you soon ditch the crowds, you'll have a more appreciative perspective on the peace you'll find. Pop in Papa's Pilar Rum Distillery, a block over, that boasts an inviting interior with a library-like feel and a long bar serving up cocktails featuring the spirit made onsite. You can book a tour to see the process for yourself; you can also sign up for classes to learn how to best put rum to use when mixing up drinks at home.
House Hunting: After you're done seeing and sipping at Papa's, start strolling away from the noise so you can simply drink in your surroundings. Key West's streets are lined with a diverse array of homes and other structures spanning ages and architectural styles. Palatial Queen Anne mansions, cottages with ornate lattice work and colorful, tin-topped conch houses coexist in harmony. Down even the narrowest back lanes, locals have faithfully restored and maintained some of the island's oldest homes and adorned them with lush and vibrant landscaping. Cascades of bougainvillea, from screaming fuchsia to whisper pink, spill over white picket fences. Leaning palms compete with sprawling oaks for space overhead. And fiery orange hibiscus and heavenly scented plumeria abound.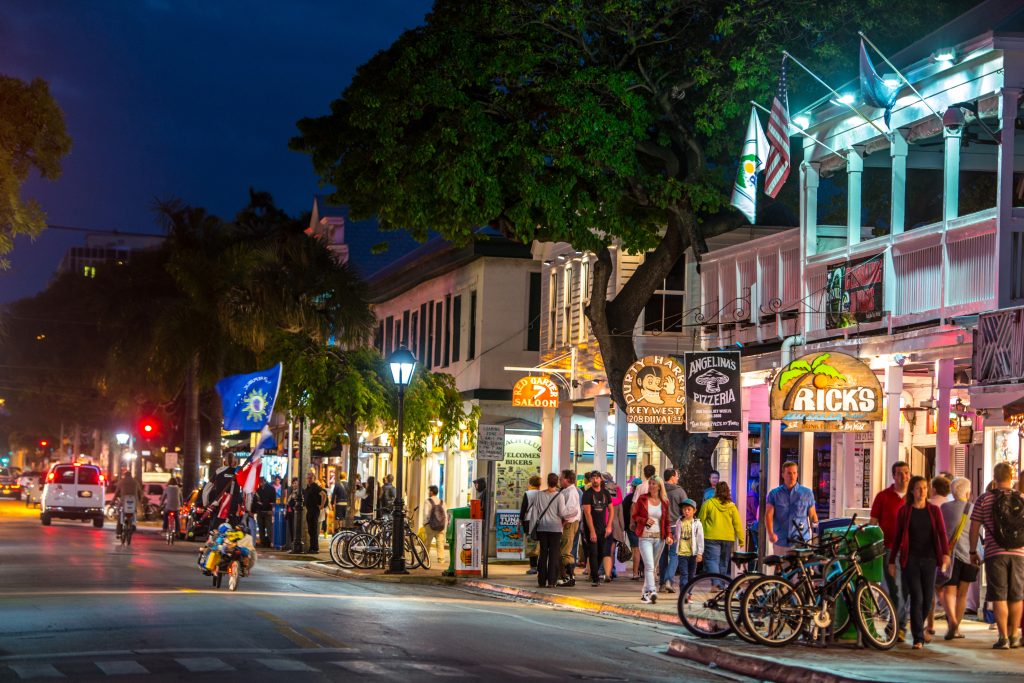 Story Time: Leave the land of the living for a bit and wander through the resting places of those passed. The Key West Cemetery was created in 1847, and 100,000 people have been laid to rest among its 19 acres. The graveyard has made efficient use of its limited land; each gravesite is designed to hold five bodies: two underground and three more above in enclosed graves. Epitaphs and monuments tell the story of Key West's defining character — the diversity that made it what it is and remains on full display today. Markers carved into sails honor boat captains. Benches stacked with books memorialize avid readers and hobbyist writers. While stories of life are carved into granite, there is actual life among the tombstones too. Iguanas, ranging from a foot to more than twice that size, sun themselves on the sun-warmed stone.
Find more tales packed floor to ceiling at Books & Books, the corner store owned by beloved young-lit icon Judy Blume. It's another bastion of icy AC to beat the swelter, but the primary reason to go in is to peruse its wide selection of fiction, nonfiction, thick art tomes, kids' picture books and more. There is a section of Blume's greatest hits and another shelf with staff picks. Blume is often there herself, but even if she's out, you can find a window into her mind. She usually has one or two of her current faves included as recommended reads among the those suggested by the store's other employees.
Don't Miss: Quick stops but still must-sees include Fausto's Food Palace. Founded in 1926 by Faustino Castillo, who came to Key West from Havana to roll cigars, the almost 100-year-old grocery store is Key West's longest-running business and a good place to pick up for provisions like wine and craft beer as well as tropical fruits and jams brought in from Cuba. The original Pan Am Airways office is also in Key West. Snap a pic at the spot where the first American international flight ticket was purchased in 1927, and then check out First Flight, the restaurant and micro-brewery, that now occupies the building.
Literary Legends: Most know that Ernest Hemingway's Key West house is now a museum open for tours, but other writers have lived and created on the island too, including Judy Blume, Shel Silverstein and poet Wallace Stevens. Pulitzer-Prize-winning playwright Tennessee Williams called Key West home for more than 30 years, and today, his abode is also a museum. Find first editions of his work, photographs of his Key West life and even his typewriter inside.
Lost & Found: A powerful piece of American history hides in plain sight off to one side of popular Higgs Beach, where multiple pedestals bearing symbols native to Ghana, West Africa, surround a painted map of the Atlantic Ocean showing slave trade routes make up The Key West African Memorial and designate the previously unmarked graves of several hundred enslaved who died on Key West in 1860. They were part of a group of refugees who had been rescued by the U.S. Navy, taken off illegal slave ships headed to Cuba and placed in Key West. Most of their stories had happier endings as many were successfully returned to Africa. But the story of those who perished, most likely from typhoid fever, faded from memory until they were found in the early 2000s. Today, the site is believed to be the only known African refugee cemetery in the United States and is listed on the National Register of Historic Places.
Garden Greats: A good portion of Key West looks like an unofficial botanical garden, but at the West Martello Tower (across the street from Higgs Beach and the African Memorial) the plant life is a bit more organized and has handy dandy labels to clue you in on what you're gazing at. The historic site was once a Civil War fort occupied by Union forces (despite Florida being a part of the Confederacy) and is now maintained by The Key West Garden Club. Inside the citadel's brick walls, under its arches and tucked alongside brick paths are hundreds of plants and flowers, including a collection of blooms that draw multiple species of butterfly and the Perfume Garden, filled with strong, sweet-smelling blossoms. The real showstoppers are the orchids. Enjoy a total immersion with a walk among a wide array of the flowers in all sizes and shapes and every color imaginable. The profusion of petals and overall tranquil mood at the Tower are well worth putting a few dollars in the requested donation box.
On the Water: When the day is done, it's time for some non-traditional nightlife via an evening kayak tour with Night Kayak Key West. On these serene, star-lit paddle trips, a knowledgeable guide leads you gliding over grass flats and under tunnels formed by gnarled mangrove branches. The tour promises some stellar wildlife sightings: Ghost crabs, squid, sliver-flanked tarpon, barracuda, octopus, sea stars, anemone, spiny lobster, snapper, electric blue minnows, and, if you're lucky, manatee, all often show up to show off.
If you'd rather be a bit farther away from the water but are still game for a boat ride, a sunset sail on catamaran — with an endless fountain of bubbly — to observe the transition to twilight is another option. Sebago Watersports offers a one-and-a-half-hour champagne cruise timed just right for watching the sun turn clouds into pink, orange, and lavender cotton-candy dreams before sinking into the sea.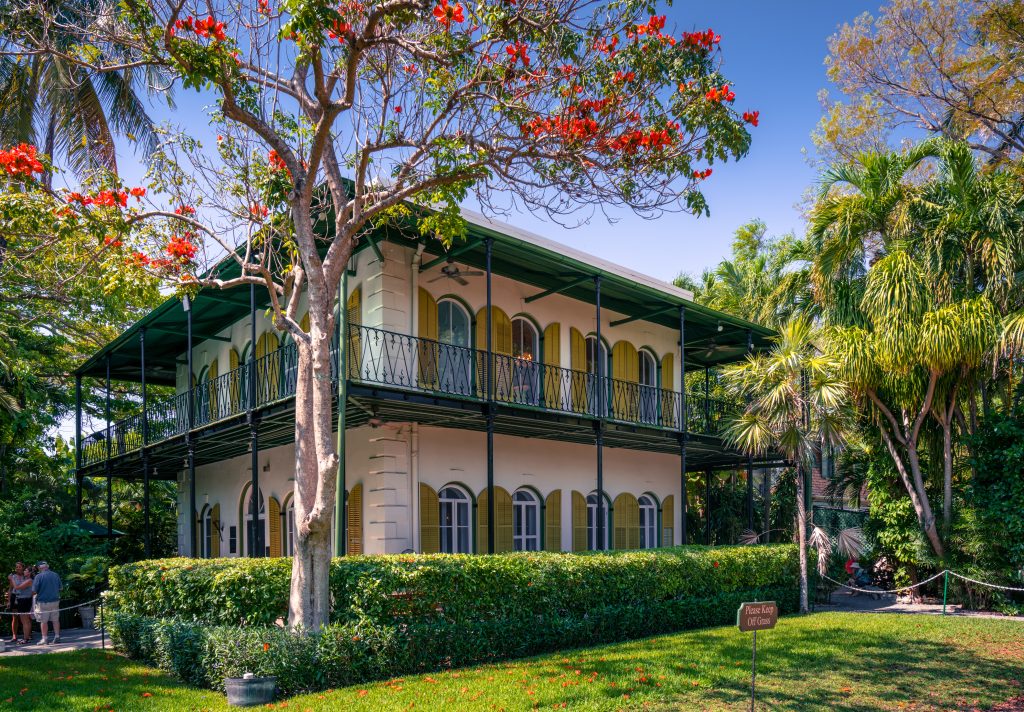 Cuban Cuisine: While Key lime pie (and key lime-flavored everything else) can be found on every corner (Kermit's is the best for an authentic slice), to truly get a taste of this place, you need to go past the pie and opt for some Cuban flavors. The influence of Cuba's culture abounds in Key West; the island nation is only 90 miles off Key West's southernmost point, but it's particularly strong in Key West cuisine. And it's particularly delicious at El Siboney Restaurant. Open since 1984, it's a little off the tourist-trafficked path but more than makes up for a little extra walking with a menu of authentic Cuban dishes like puerco asado (roast pork), whole fried fish, empanadas, yellow rice and beans, fried plantains, yuca and the iconic Cuban sandwich. Wash it all down with a café con leche coffee or a glass (or two) of the fruity and slightly sour house-made sangria.
All Mixed Up: Back nearer the hustle and bustle but down a quieter side street where the banyan trees branch way out, Garbo's Grill is a food truck that now remains stationary in the back of Hanks Saloon. It serves a mash-up of Korean American-coastal cuisine in the form of hot dogs piled high with kimchi, sesame mayo, fried cheese, cabbage, scallions, daikon and citrus soy dressing; tacos stuffed with Korean barbecued beef short rib and sriracha; and fish poke bowls drizzled with its signature spicy, tangy Caribbean sauce.
Eat Alfresco: Dig into breakfast, lunch or dinner with the locals and roaming chickens and cats in Blue Heaven's tree-shaded courtyard that's dotted with folk art and other eclectic decor. The menu features Southern standards blended with some Caribbean flare, like shrimp and grits, Caribbean BBQ shrimp made with Red Stripe, yellowtail snapper salad smothered in an orange vinaigrette, black bean-avocado bowls served with cornbread and passion fruit cashew cheesecake.
Base Camp: Make your way back to Duval Street where Pier House, a prime place to rest up for another day of exploring, has been welcoming guests and winning fans since 1967. It's developer, David Wolkowsky, was a Key West native and is credited with preserving his home's charm by helping keep high-rises at bay.
Today, the 142-room luxury resort and spa hosts many repeat visitors. They keep coming back for the waterfront location with stellar views and a private beach for sunning and swimming; the elegant but comfortable and coastal-chic accommodations; warm, friendly service from the entire PH team; and fine-dining on the oceanside terrace at the property's restaurant, One Duval, where creamy conch chowder, tuna poke and pan-seared black grouper embellished with sweet blue crab and sun-dried tomato sauce draw diners from not just the resort, but all over Key West. And Pier House has some secret spots too. Those in the know seek out a shady patch of sand to the right of the main resort beach, where they can hang out with napping iguanas and watch sail boats drift by.
Navigate Here: Pier House is also home to perhaps the crown jewel of hidden gems in Key West, Chart Room. The tiny, dimly lit bar is tucked around the back, away from the pool with no signs on the street announcing its presence. It was not even part of the resort's original plan, but within weeks of opening, when someone asked where the bar was, the plan changed. A hotel room was hastily cleared out and turned into Chart Room, which, back in the day, helped jumpstart Jimmy Buffet's career. When the singer-songwriter made his first trip to Key West in late 1971, his first stop was the bar. The "island life" crooner kept coming back and was soon playing his music in exchange for free drinks to audiences that included Hunter S. Thompson and Jim Croce. Other celebrities rumored to be repeat guests include Truman Capote, Tennessee Williams and Shel Silverstein. Some Chart Room patrons feel so at home, they never want to leave. So, they don't. Regulars with names like Panama Peat and simply "Bob" have had some of their ashes poured into small holes along Chart Room's wooden bar after they died. Small plaques designate who rests where. Today, Chart Room retains its dive-bar charm, so don't skip the chance to imbibe some of its quirky history alongside a margarita or a gin-based Thirsty Pirate.
Brian Noyes left his career as a high-profile magazine art director to pursue dreams of founding a bakery. His success is driving an economic renaissance in rural Virginia. ​
Read More »