Washington, Georgia
It's been said that there are no secrets in small towns, but neither are there strangers, and in Washington, GA, both of these things are true.  In this myriad of both small town values and new school thinking, Washington's history and its bright future run neck and neck in the race to see which will outlast the other.
Founded in 1780, Washington was the biggest city in Georgia. Forty percent of the state's population lived there.  Chief among them was Robert Toombs, a former U.S. politician from Georgia, general and Confederate secretary of state. Toombs was a Wilkes County native who lived out his years after the war in his majestic white columned home, which started life as a log cabin in 1794.
A mere eight miles outside of town is the Kettle Creek Battlefield, home to a history-making Revolutionary War battle. Washington is also home to the only known Black Patriots Monument in the country, dedicated in 2012. The monument, created by sculptor Kinzey Branham, sits in the middle of town and represents Austin Dabney, the best-known black patriot of Georgia and one of 5,000 black patriots who served in the Continental Army. Though efforts have been made to place a similar remembrance in Washington, D.C., it's Washington, GA, which holds the honor.
The local Mary Willis Library boasts a three-paneled Tiffany glass window, commemorating its namesake.  Founded in 1888, the library houses many of the original furnishings and one of the chests filled with gold that were brought to Washington by the Confederate Treasury in 1865. Though many theories exist about the missing gold, none have proved valid.  One involves the Robert Toombs house.  It is said that in the dirt basement a wooden false floor was found.  Was it a secret room?  Well, maybe, but no gold was found there.
Holly Court, where President Jefferson Davis and his family stayed during the flight from Richmond is now a bed and breakfast inn, and just outside of town, the Callaway Plantation, built in 1785 as a log cabin, offers a glimpse into the long gone days of the agricultural South.
Every October, Resthaven Revisited, is performed onsite at the historic Resthaven Cemetery and brings to life several historical characters actually buried in this beautiful place. Talented locals portray people who were all important in the history of Washington and Wilkes County.
However, the magic of Washington isn't just in historical landmarks and beautiful buildings; the magic of this city is in its people and in their histories.
[perfectpullquote align="full" cite="" link="" color="" class="" size=""]
In Washington, some say, the kids leave and don't come back, but retirees come here after having enough of "city living." In this small town, there is a safe feeling, because everyone knows everyone else. Folks here have good "country" manners, many say.
[/perfectpullquote]
One of the small businesses on the square, located in a building that was established in 1898, is Bee Southern, a charming shop that proclaims: "It is our aim to create a boutique that brings the community together through a shared experience of shopping, gift-giving, and relationship-building."
Owner Kelli Eisler, says she is happy to be located in a building with a long history. "I just love that this building was built so long ago!" Eisler exclaims. "I used to teach history and there is so much to love about the history of this town."
Just across the street and down the block sits Tena's Fine Diamonds & Jewelry, a small family-owned chain of jewelry stores with four locations, but that started here in Washington. Tena's three daughters all went away to college but once they returned home, went to work for the family business. The oldest daughter, Debbie Jackson, says she loves having her shop in this small town. "It's just such a sense of community and the people are so supportive, that it makes you want to take care of them," Jackson says. "You really try to take care of all their needs, because that's what living in a small town is all about."
Out here in Washington, we power broke over pimento cheese and bicker over blackberry jam.
Just around the corner is where Kathryn Filipiak holds court at Southern Scratch Bakery, with her sandwiches and pastries, while getting the updates on the city's residents and finding out all the other news that there is to hear in small town Washington. At Filipiak's popular spot on the square, located near the Wilkes County Courthouse, built in 1904 and the 1898 Fitzgerald Hotel, everyone is a neighbor once they walk through the door.
Filipiak is a former nutritionist who wanted to do more with her knowledge than plan hospital meals. Originally from Birmingham, AL, she married a local boy from Washington and set up house on a farm outside of town. She started her bakery partly out of boredom and partly from a desire to become more involved with the community.  From that Southern Scratch was born.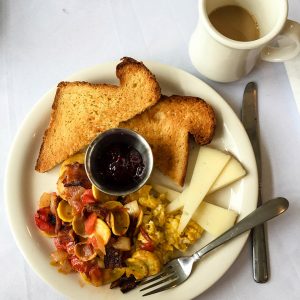 Her passion for local, sustainable ingredients makes her cookies, breads and lunch items increasingly desirable, and she often sells out.  Out here in Washington, we power broke over pimento cheese and bicker over blackberry jam," she laughs.
Her love of her town shows in everything she bakes. "Kathryn is running a healthier bakery," says Bambi Arnold, a local accountant who does not only does the books for Southern Scratch, but for several other businesses and residents in town. "She really cares about what goes into all the dishes she provides here." Arnold adds that Kathryn wants to make sure everyone eats a little healthier out there where they live, off the beaten path.
[perfectpullquote align="left" cite="" link="" color="" class="" size=""]USA Today put Washington on a top ten list of spots to see July 4th fireworks. [/perfectpullquote]
In Washington, at Southern Scratch, there's almost always a table full of happy, laughing and sharing customers and everyone can be found talking about how their town gained national attention when USA Today put Washington on a top ten list of spots to see July 4th fireworks. That's when this small town of 4,000 hosted more than 8,000 for America's birthday celebration. Friends and neighbors were found regaling one another with the stories of the city visitors and sharing the photos from smart phones.
Filipiak's best friend, Jenny Brown Reville, a local real estate agent who is also a Georgia Registered Forester, can also be called upon to weigh the cattle at the local livestock auctions. "I was pregnant and the guy who usually did it at the livestock auction couldn't be there, so they asked me if I would do it," says Reville. "I thought, 'Why not?'" She says that she ended up keeping that job at live cattle auctions.  Moving an average of 170 beasts an hour, she now says she loves it.
Reville and Filipiak met at the local Ingles Market and hit if off right away, both are business owners and have a true ambition for the community and its people. Their goal is to show others that there are many dedicated people in Washington – those willing to do what it takes to help the area grow. "The best thing about Jenny is that she is always making me better,'" says Filipiak. For her part, Reville says her baker friend helps hold her up at times, "even when I am at my rope's end." That is the very feeling of Washington – a whole town being there for one another.
Community also means helping one another and Filipiak likes to tell the story of how she got all of the furniture moved from her original location across the square to her current spot.
It seems she was out of town on vacation and there was a big storm that ended up with a tree falling on her former business site. Upon returning, she visited her new business place and decided she had to move, but didn't know how she was going to get it done in a good amount of time, so, she enlisted her friends that came into her shop to check on her.
When something bad happens, we don't call city hall, we call our neighbors
Fillipiak explains further, "I got folks to take over a chair or another thing or two for coffee and muffins." She knew she was in good hands, and her trust with her community only grew.
Recently, Evelyn Bennett, a native of Washington and former owner of a much-loved eating spot, Another Thyme Café, returned home. Knowing she would be in that day for lunch, Filipiak wanted to make Mrs. Bennett's return special, so she made a sign that read: "Welcome home, Miss Evelyn," and put it on the large community table inside her shop. Her daughter, Katherine Bennett, a lecturer in Landscape Architecture at UGA, says that her mother could not wait to return to her beautiful town and its people.  "My mother was a culinary artist with a deep commitment to the cultural meaning and integrity of her work," says the younger Ms. Bennett. "Her café was one that brought the town together, crossing the boundaries of race and class."
Today, Thomas Macfie, another lifelong Washingtonian, is telling tales.  Macfie takes up all the oxygen when he enters a room, yet manages to lighten the mood.  As he is spinning yet another yarn, Filipiak cuts in with her own story about the donkeys he owns being let loose in someone's front yard. She is smiling as she tells everyone about how she woke up to find his donkeys that he keeps, all in her front yard. "Someone called the sheriff and he called Thomas," she continues. "I knew they were his donkeys." She knew, because he often lets them loose in folks' front yards. Macfie says his phone rang and it was the sheriff, who simply told him, "Your donkeys are loose." Everyone laughs but Macfie smiles contently at the good-natured ribbing.
Macfie's brother, Ian, was known around Washington for his blackberry jam, so when he wanted to work with Filipiak at her bakery, he didn't bring a resume to apply for his job, he brought her a jar of his jam…and got the job. Filipiak says that's all he needed to do.
Debbie Anderson*, the County Voter Registrar, enters in a wheelchair and makes a place for herself at the community table. Her bright smile gets even brighter when she hears her chance come up to speak. Talking as if she's been there all morning she details a trip she took the previous weekend. And, when someone happens to order a cinnamon bun, Debbie calls out "they are so good". It's simply a given, that when you talk at Southern Scratch, it's for everyone to hear, because that's what community is.
Arnold adds that sense of community is the element that makes Washington so special. She says that Saturday mornings are extra special, after everyone has been to the local farmer's market, set up behind city hall. "It's always a party feeling when two or more regulars get together, so we can share all the news that there is to tell."
Washington is truly a jewel of the South. Full of history and small town charm, one visit will have you convinced you need to live here.
Written by Elizabeth Tate / Photography by Lena Seaborn
*In the print edition, Debbie Anderson was identified as Debbie Danner, city clerk.