This small mountain town is home to ghostly fireflies, heavenly waterfalls, rustic melodies, and much more
Story / Photos by Deborah Burst
A SMALL TOWN  in the Appalachian Mountains, Brevard, North Carolina holds many secrets, from a land consumed with ghostly fireflies and rainbow waterfalls to a vibrant current of rustic and refined music.
Even the name of the county, Transylvania, sparks a vivid imagination. Imagine a village of fairies — blue fireflies — what locals call ghosts of the Confederate soldiers. Could there be some truth to this tale? After all, they only show up in Transylvania County, home to major confederate battles. And the tiny insects are very strict with their timing, mid to late May.
Step inside Transylvania's Twilight Zone, pitch dark except for the creatures of the night, the blue fireflies or what some call, lightning bugs. Now imagine a symphony with no sound, instead synchronized waves of flashing. Stroll slowly inside the dark abyss, senses heightened you soon become one with these mysterious creatures. Consumed by sky-high trees with a carpet of ferns and a bed of leaves, one quickly learns these ghostly nymphs are on a serious mission — mating.
The female firefly doesn't flash, and never moves past the larvae stage. Instead they lay low in the leaf litter emitting a dim but constant bluish-white light. Meanwhile, the males get busy flirting, flashing for hours, and doing their best to win the prize. Every moment brings another surprise, a loner, perhaps a scout, moving slowly towards you, and then pure darkness.
Often times there's a faint spell of rain, which seems to attract the busy bugs. Listen closely as the woods add another act to this adorning concerto. Repeated raindrops darting across the forest floor join a staccato stroke of thunder and lightning splashing across the treetops. Soon a throaty theater of frogs and crickets create their own style of music. As the wind slices through the trees, the gentle pounding of leaves give way to a maternity ward of future fireflies.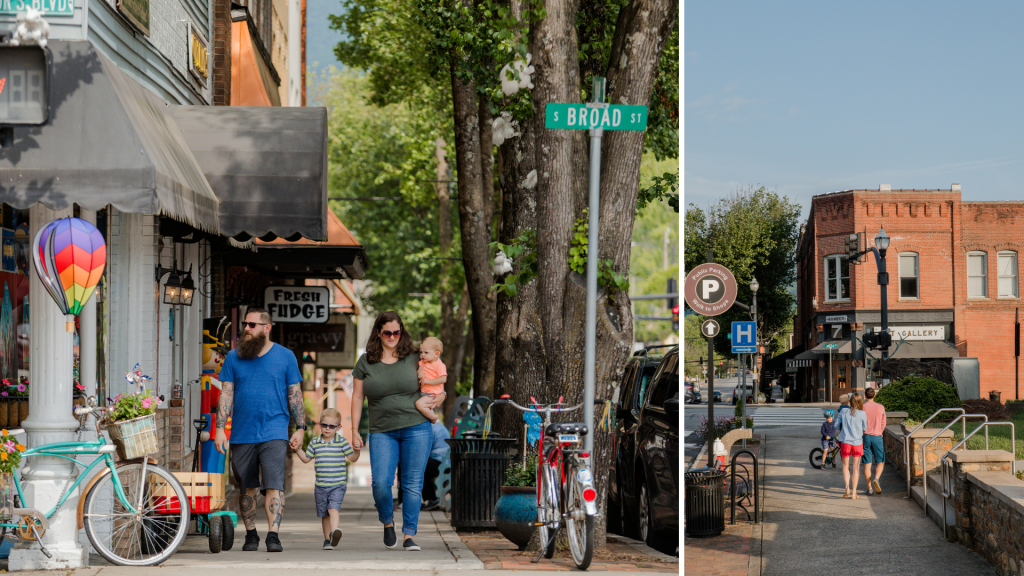 KING OF THE WATERFALLS
Touted as some of the highest falls east of the Rocky Mountains, western North Carolina owns some of the most beloved cascades. They have their own mystic, and Rainbow Falls brings a fury of energy, with 150 feet of water crashing down among epic trees and lush wildflowers in the Pisgah National Forest. Known for its misty rainbow of sunlight, there's another secret that many may not realize. Peer through polarized sunglasses and witness the copper-colored rock behind the waterfall. Even the trail has its own unique beauty. Shaded by skyscraper trees, steady streams of people exiting the falls are giddy with excitement. Many stop and share their experience. On your next stop treat yourself to a short detour on the trail back. At the top of the waterfall the High Falls covered bridge stretches across the Little River that flows into the stunning waterfall.
Right off the highway, the Looking Glass Falls offers a perfect place for photos, be it a close-up of the falls or its steady stream rolling through the trees. Draped with chiseled walls of rocks, emerald vines caress this majestic odyssey. Imagine a soft, maternal fall, full of vigor yet polite. There on the ground, a misty breeze rides the air, but gentle enough for families to roam its kingdom, some with children and babies.
CRADLE OF FORESTRY
Next up on the Brevard/ Transylvania itinerary, the Cradle of Forestry in Pisgah National Forest is a must-see, the birthplace of today's science-based forestry focused on environmental sustainability. Built more than a century ago, every building tells a story, from the forestry student quarters to the one-room schoolhouse, and the office of Dr. Carl Alwin Schenck. A native of Germany, Schenck was hired as director of the Biltmore Forest School opened in 1898. The first ever in America, young men from New England and the Midwest were hungry for forestry education.
Caressed by stunning green space, the wind whistles across the timberland. Great for schools, tree huggers or history buffs, the paved trails offer a comfortable hike and welcome those with strollers and/or wheelchairs. And don't miss the blacksmith dedicated to his craft, molding a piece of steel into a decorative key holder.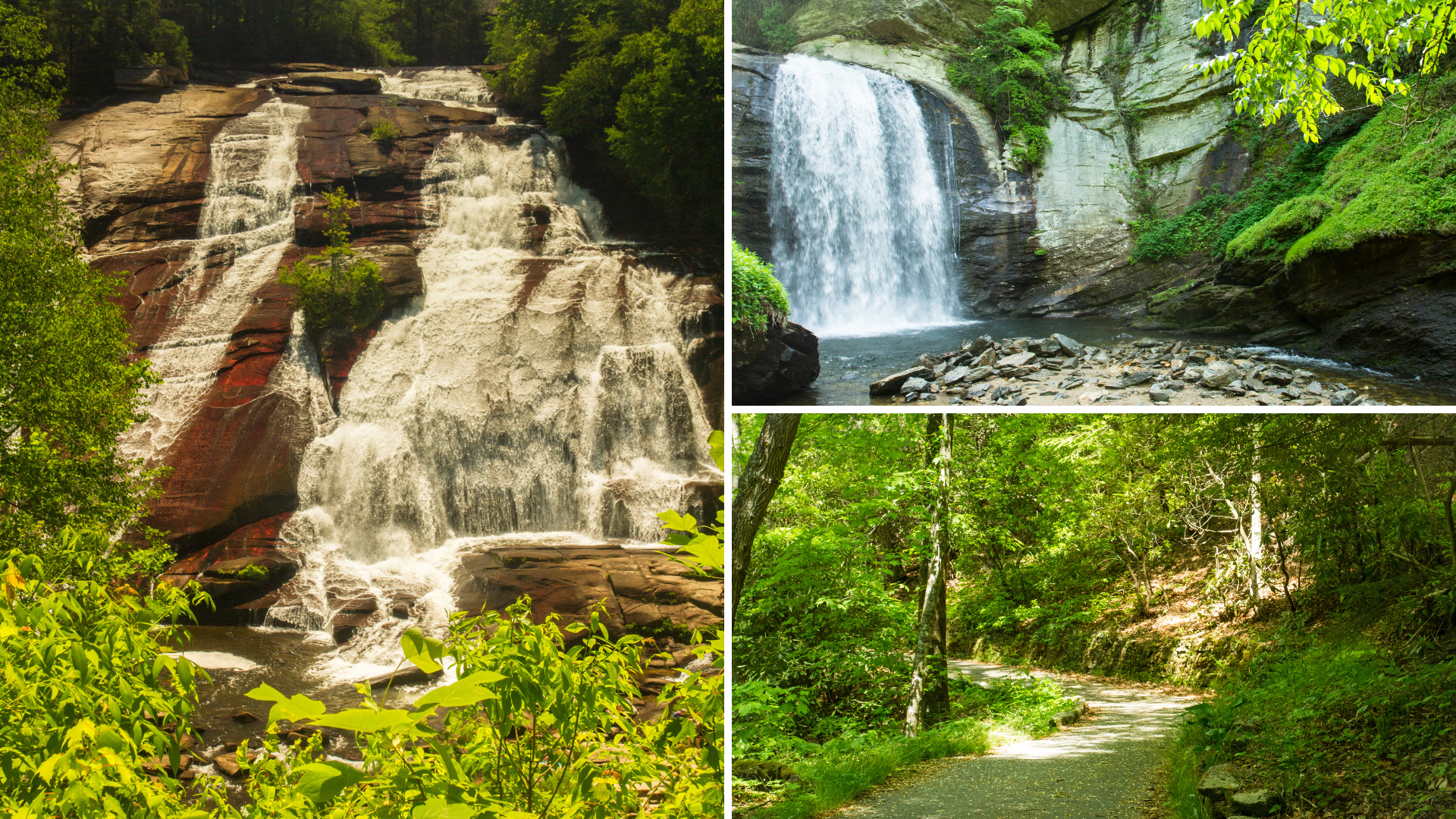 BELOVED MUSIC & ARTISTRY
Brevard and its beloved county own a wealth of artists from those who spin pottery to masters of the paintbrush. Perhaps the first stop should be Duckpond Pottery. Just outside of Brevard on scenic Highway 276, the pottery rests on the footprint of an ancient Cherokee Buffalo Trail. Owner Nick Friedman invites everyone to his stunning and quirky paradise where art, music and nature come together. Shades of rainbow pottery and unique works of art consume Nick's colorful studio. There inside a forested kingdom, a vast wood decking welcomes friends and customers to multiple musical events. Or sip a cup of organic tea brewed by Nick himself and listen to the rhythm of the busy river below.
No matter your musical persuasion, from banjos to Beethoven, Transylvania County hosts worldwide talents. Multi-talented musicians join jam sessions and symphonies, from inside the Brevard Music Center to tiny church halls and outdoor concerts against the misty mountains.
Cathy's Creek and Dunn's Rock host weekly jam sessions reaching deep inside the Scotch-Irish musical traditions. Yo-Yo Ma, an incredible master of Beethoven, shares his talents worldwide. Then the stunning Steep Canyon Rangers, a Grammy award-winner, released thirteen studio albums, three with actor/banjoist Steve Martin.
FOODIE ROYALTIES
And with music comes beer. Brevard brewers have fine-tuned the mountain springs into delightful batches of beer. Bring the family; all ages are welcome with covered picnic tables and live music. Oskar Blues Brewery hosts local musicians and a variety of food trucks serving tasty treats.
Don't leave Brevard without checking out Tin Roof Pizza. Far from a brick and mortar, instead it's a pizza truck. The pizza pie slides inside a stone oven on the back of a pickup truck. Check out social media for their schedule of places. For such a small town, there's a long list of culinary delights, from a delectable menu of high-end steaks at Vescovo Restaurant to a feast of fresh trout at Pisgah Fish Camp celebrating its 50th anniversary.
Rocky's Grill and Soda shop brings to mind the old days twirling on the drug store's stools sipping old fashion fountain drinks. Rocky's is still rocking, from tourists to weekly get-togethers catching up with family and friends. Besides the life-long addictions to Rocky's hot dogs and hamburgers, there's the Grilled Rachel, a smoky turkey sandwich layered with Swiss cheese, kraut and dressing. Others go for the 80-year-old Pimento Cheese recipe ladled over buttermilk bread. And it may take a bit of time to decide on the shakes, malts, floats and smoothies. But the real deal is their Outrageous Sundaes — from Devil's Courthouse Sundae to Black Mountain Brownie Sundae or maybe a White Squirrel Sundae.
ENCHANTING FAIRYLAND
Such a magical place, a long weekend isn't enough and one night with the blue fairies won't do. And don't forget to research the magic of those lightning bugs, and book your reservations early. Even if you can't make the blue species, the yellow lightening bugs have their own unique show. Take the time to discover the woods in the dark, gazing at the glorious night sky of the Blue Ridge Mountains. Vincent Van Gogh comes to mind, an inked sky consumed with stars, silver messengers sharing secrets of the night.
Brevard Tourism explorebrevard.com
Brian Noyes left his career as a high-profile magazine art director to pursue dreams of founding a bakery. His success is driving an economic renaissance in rural Virginia. ​
Read More »