Longtime Mississippi watercolor artist Wyatt Waters won renown painting the unknown South. Now he's realized his dream book.
Words by Susan Marquez / Photos by Kristi Waters
WYATT WATERS, a watercolor artist from Clinton, Mississippi, has recently published a book that was over twenty years in the making. He hasn't been slacking off during that time. He has many other books under his belt. But this particular book is one he has wanted to do for a very long time. The book is The Watercolor Road: Painting and Writing through the American South. 
Some may think the project began when Wyatt and his wife, Kristi, purchased a 16' Casita pull-behind travel trailer in 2020. "I used to drive VW vans," says Wyatt. "I have had ten of them over the years. I would hit the road and sleep in the back. I had an idea to travel the Southeast, from Arkansas to the Florida Keys." The couple purchased the travel trailer in Johnson City, Tennessee in February, just before the world stopped due to the Coronavirus pandemic. They named the trailer Lucy. "We weren't sure what would happen, but we were set to go. We spent the next couple of years on the road. It turned out to be a great project."
Wyatt says that the seeds for the project were planted over twenty years ago. "This is the book I always thought I'd do. My roommate at Mississippi College was Stu McIntyre. Stu's dad was the editor of the Sunday newspaper, and he told me I needed to put together a book of all the paintings I was doing."
As a plein air artist, Wyatt works solely on site. He doesn't like to paint from photographs. He prefers to set up his easel and paint on location. Wyatt loves the South and the idea of an adventure traveling around the region with his wife while painting and writing every day sounded appealing to him. "Kristi made the plans for the trip," Wyatt says. "She planned an itinerary that kept us from getting too lost." and writing every day sounded appealing to him. "Kristi made the plans for the trip," Wyatt says. "She planned an itinerary that kept us from getting too lost."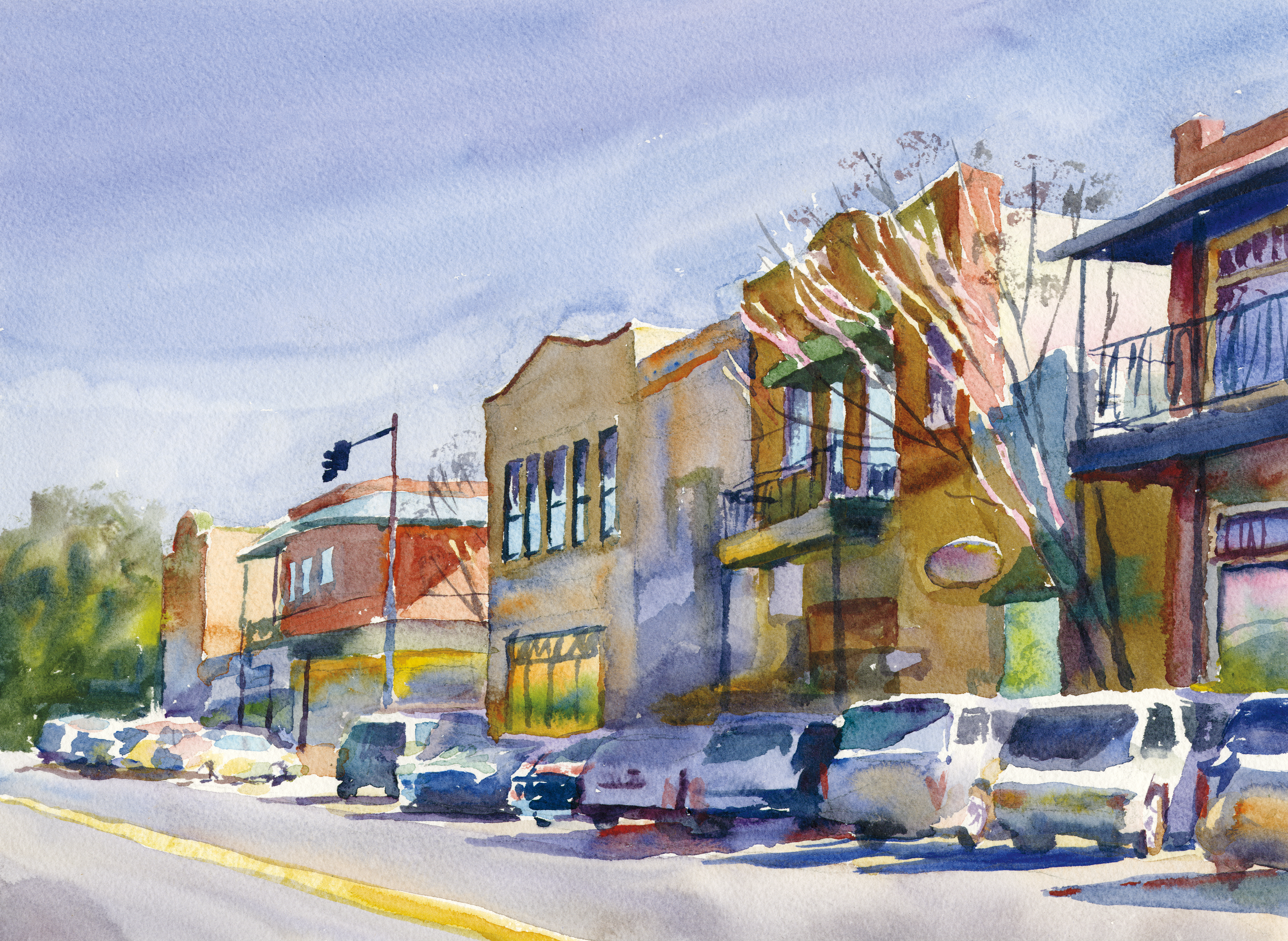 THE INAUGURAL voyage began in May 2020. "We hit the road for a couple of weeks," says Wyatt. They traveled to Savannah, Georgia and created a home base. "We drove about two hours out each day, then we would head to another city." Their longest trip was in the summer of 2021, when they were away from home for five weeks.
The trip allowed Wyatt to experience the American South in a closeup and personal way. The book allows the reader to have the same experiences through Wyatt's paintings and musings. His paintings in the book include familiar places such as public buildings and churches in towns around the South, to the obscure and quirky places like the Georgia Guidestones, a sort of mini-Stonehenge located seven miles north of Elberton, Georgia. It's a good thing Wyatt painted the stones when he did. Unveiled on March 22, 1980, the stones were destroyed by a bomb on July 6, 2022. Wyatt's philosophy is, "if it is interesting to see, it can be a painting."
Taking the road less traveled resulted in many unplanned experiences for the couple. "On our first trip we spent twelve hours waiting for roadside assistance on a covered bridge in the middle of nowhere when our vehicle broke down," Wyatt says. "But during that time, we met a lot of nice folks, and I was able to paint the bridge, which was really beautiful."
The trip was, in part, to help Wyatt understand his home, the South, so that he could better understand other places in the world. He felt the best way to do that was to get out there and see it, up close and personal. "I can't see the sky of a Gulf Coast sunset in my studio," he muses. The trip not only helped Wyatt learn about the South, but he learned more about himself. In the book's forward, entitled "Every Picture Tells a Story," Wyatt says "I had an idea of taking off in search of this place called home. This place where I was raised had nurtured me, and sometimes, rejected me. I've come to terms with the beliefs and traditions of my upbringing. Our collective hopes and fears. With our beauty and faith. With our old scars and new wrinkles. We are both simple and complex."
SOMETIMES THE unexpected can really make you feel the power of the moment. That happened when they happened to spy a 10-foot alligator in the Louisiana swamps while Wyatt was painting. "Compare an 11-foot alligator in a zoo to a 10-foot alligator on the shoulder of the road a few feet away. Which makes you feel the power of the moment more?" Kristi let her guard down long enough to shoot an incredible video of two alligators fighting. "That's just something you don't see every day," she said.
There were a few perilous moments involving humans as well. Wyatt tells the story of driving in the country and coming upon a stand of bois d'arc trees. A man was standing on the property, and Wyatt assumed he was the owner. Asking if he could do a watercolor there, the man replied, "sure," then went on his way. When Wyatt was nearly through with the painting, a man with a shotgun approached and asked what Wyatt was doing. When Wyatt told him the owner had given him permission to paint there, the man with the shotgun became agitated and told Wyatt he knew he was there looking for buried gold. Wyatt packed up and left.
In addition to his reflective essays throughout the book, the titles of each painting are worth reading. Wyatt loves to play with words, and most of the titles cause a chuckle. Some are quiet "digs," his way of challenging the status quo. Some of the titles are obvious, but still humorous. For example, a painting of a horse drawn carriage in New Orleans' French Quarter is called "Quarter Horse." A large old growth oak tree with a branch that crosses a creek is next to a footbridge in New Orleans' City Park. The painting is called "Double Crosser." A painting of Looking Glass Falls in North Carolina is called "Falls Alarm." And because it's so much fun, just one more: a painting of fog rolling in from the mountains over a field in Waynesville, North Carolina is named "Mist Opportunity."
The result of Wyatt and Kristi's trip around the South is an impressive collection of 133 paintings, 21 essays, and an array of adages that depicts both the South and Wyatt's relentless trek to be a better painter as a mindset rather than a destination. This is the first book of Wyatt's that includes his writings, which feature the many truths he has learned along the way and how he applies them to his art and to his life.
ONE OF THOSE truths was learned when Wyatt had a kidney stone while in Eureka Springs, Arkansas. He was in the emergency room in extreme pain, yet there were others who were in worse pain. Someone had been in a car accident and was crying in the bed on the other side of the curtain. There was a death, and that was sad. "No one dies of a kidney stone," Wyatt wrote. "You just wish you could." A kind nurse took care of him, and he returned to the Casita where Kristi took care of him. "Even though I was in pain, I knew I was loved, and I can honestly say it helped." Wyatt thought about how similar his physical pain was to the pain we all go through. "The pain inside that will not go away. It makes us frustrated, and we want to lash out to distract us from how unbearable it is." Then he was reminded the next day about the importance of being kind. "It's a choice."
Wyatt has been painting since childhood, starting with lessons before he went to school. He earned a master's degree in art and has spent his life in an unrelenting quest to become a better artist. He has had seven other books published, including Another Coat of Paint, Painting Home, and An Oxford Sketchbook, as well as collaborating with Mississippi restauranteur Robert St. John on A Southern Palate, Southern Seasons, An Italian Palate, and A Mississippi Palate. He and Robert also host Palate to Palette, a traveling culinary and art series that airs on Mississippi Public Broadcasting. He also has a gallery on the quaint brick streets of Clinton where he sells his original work, as well as giclee prints. The gallery also sells prints, books, stationery, and apparel, following Wyatt's belief that art is for everyone.
FOOD & DRINK
Brian Noyes left his career as a high-profile magazine art director to pursue dreams of founding a bakery. His success is driving an economic renaissance ...
PLACES
This Appalachian mountain town holds many secrets — from ghostly fireflies to rainbow waterfalls, great food and drink, and refined, rustic music.
OUR PEOPLE
Renowned Mississippi watercolor artist, Wyatt Waters, is known for painting the unknown South. He's realized his dream book after 20 years. ​